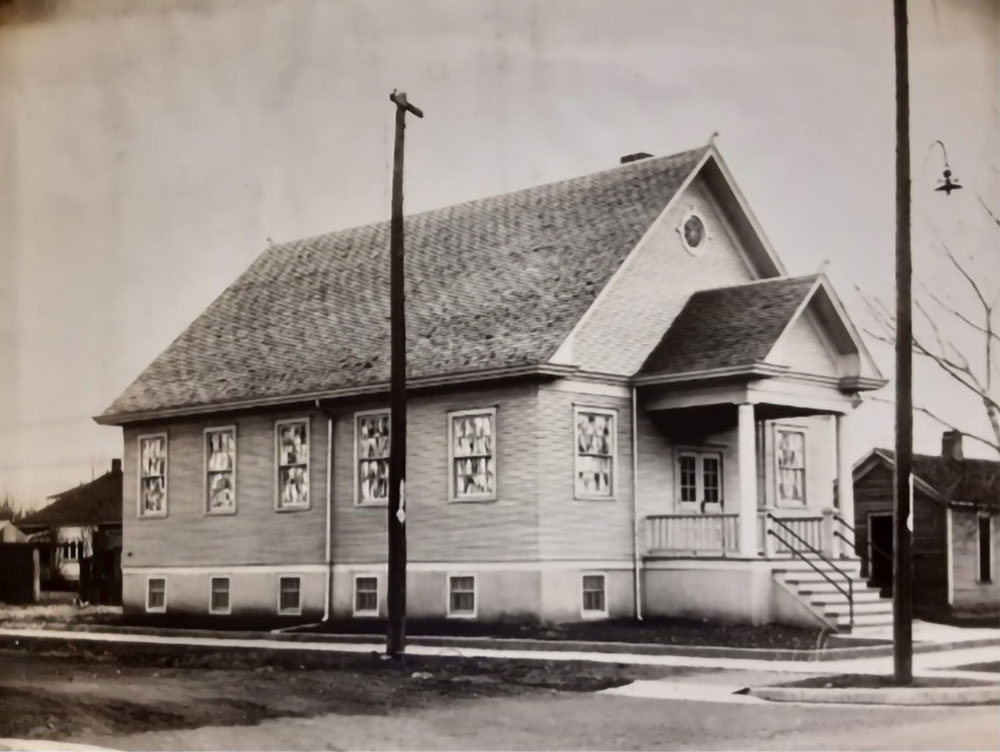 This is a picture of The Hutchinson Mennonite Mission as the church built on the corner of 4th & Cleveland was initially known. Built at a cost of $6,000, it was dedicated on March 28, 1920. With the approval of a constitution on April 9, 1922, it became the Hutchinson Mennonite Church.
First Mennonite Church of Hutchinson is excited to announce our one hundred year anniversary and we invite you to join us! We'll be celebrating our history as well as looking forward to our future as active members in the Hutchinson community.
The RSVP deadline has passed, but please don't let that hinder your participation on Oct 22-23. If you would like to come to the Saturday or Sunday meals, please email centennial@hutchfmc.org with the number of those attending. We look forward to seeing you!
Information about Centennial Celebration October WNAF (Wednesdays Nights at First) + one Sunday can be found on our Gatherings page.
Weekend Schedule
Saturday, October 22
Open House @ LightHouse (1005 North Washington St. Hutchinson KS)
Dedication and Blessing at LightHouse: In honor of our 100th anniversary, we have raised over $26,000 (and counting) to support the construction and ministry of LightHouse. LightHouse is a house being renovated into 8 one bedroom apartments, intended to address the growing need for transitional housing for youth 18-21 years old in our community.
3:00-5:00pm Snacks and Come and Go Activities @ FMC
OUTSIDE:
Inflatable Obstacle Course, Corn Hole, Bubbles, Ladder Ball, Chalk
CRAFT: First Church Model Kit – option to build there or take the kit home "100" Display: Large homemade wooden "100" plus a display of jars filled with different 100 items to visually see what 100 represented in different ways looks like
4:30pm – gather for a GROUP PHOTO beside the 100 display!
INSIDE:
Peruse a "Memorabilia Museum" of historical items related to the life of FMC. View our new 'history wall' with photos, quotes, and a hand quilted wall hanging created specifically for this celebration.
Purchase your copy of the new 100th anniversary history book: Arms Wide Open
Sit and visit with old and new friends!
Borscht Supper in the basement fellowship hall (elevator available) begins
(please RSVP to assist with meal planning )
Sunday, October 23
Choir Rehearsal (local participants will rehearse ahead of time; those coming just for the weekend can join on Sunday morning for rehearsal & worship)
Worship Celebration:
Arms Wide Open – Set Free to Serve & Love One Another (Gal 5:13-14)
Fellowship & transition to Potluck Lunch in the Fellowship Hall
Potluck Lunch begins (please RSVP to assist with meal planning)
Meat provided – locals please bring extra salads/side dishes and/or desserts to share with our guests.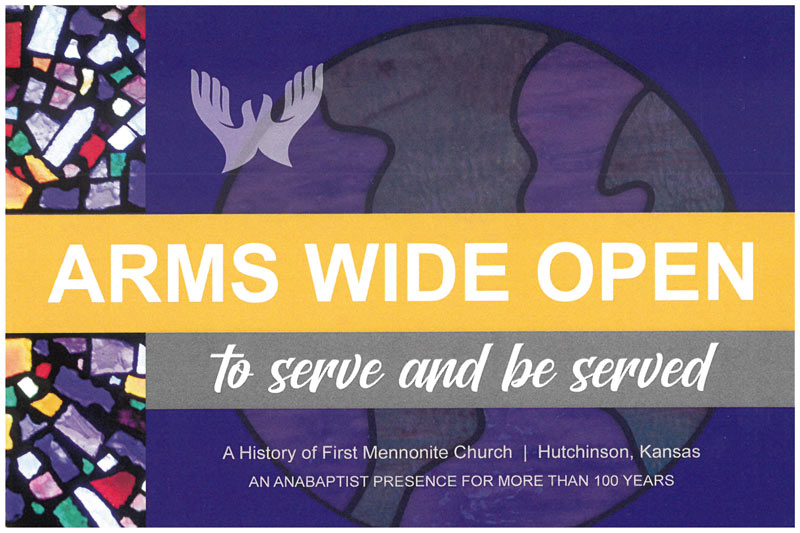 Centennial History Book
Our new 104 page history book, Arms Wide Open to serve and be served (edited by June Krehbiel) will be available at the Centennial Celebration for $25 each. Cash and checks accepted for sure (possibly credit cards, but not guaranteed). Please contact us if you can't attend the celebration and would like to purchase a book. (Image is of the front cover of the book).